I'm coming back with my promised post!
One of the places that I also visited when I went to Seoul is Hongdae. This area is filled with unique korean fashion stores. Besides clothes, you can also find shoes, bags, and other accessories. On weekends and Friday afternoon, it becomes a hip place where young people usually go to.
I didn't have the chance to be there until night to experience the nightlife of Hongdae (my legs had given out at around 5 PM and I ended up taking a taxi to go back to the hotel anyway), but I had mighty fine time exploring around the main streets, and also had the time to visit Stylenanda's Flagship Store!
pretty Korean girls with rad sense of style are seen everywhere in Hongdae!
There's this particular main street (
I forgot the name of the street, but you can surely spot it if you go there yourself, a lot of people went that way!
) which is filled with independent clothing stores. From one end to another, in front of and inside the stores, rows and rows of clothes are aligned, and almost none of the stores have the same product! All of them ar local Korean brands, and the fun thing from Hongdae is that they're clothes are more edgy and experimental than the usual Korean fashion (which is more to the soft, pastel colors, feminine types).
You can also find great deals if you look around hard enough (I manage to grab some t-shirts and a really cool thunderbolts sweater there, in less than an hour walking around!) So, yeah, I do recommend Hongdae to go shopping when you went to Seoul and wanted to find more unique, non-mainstream clothing products and brands.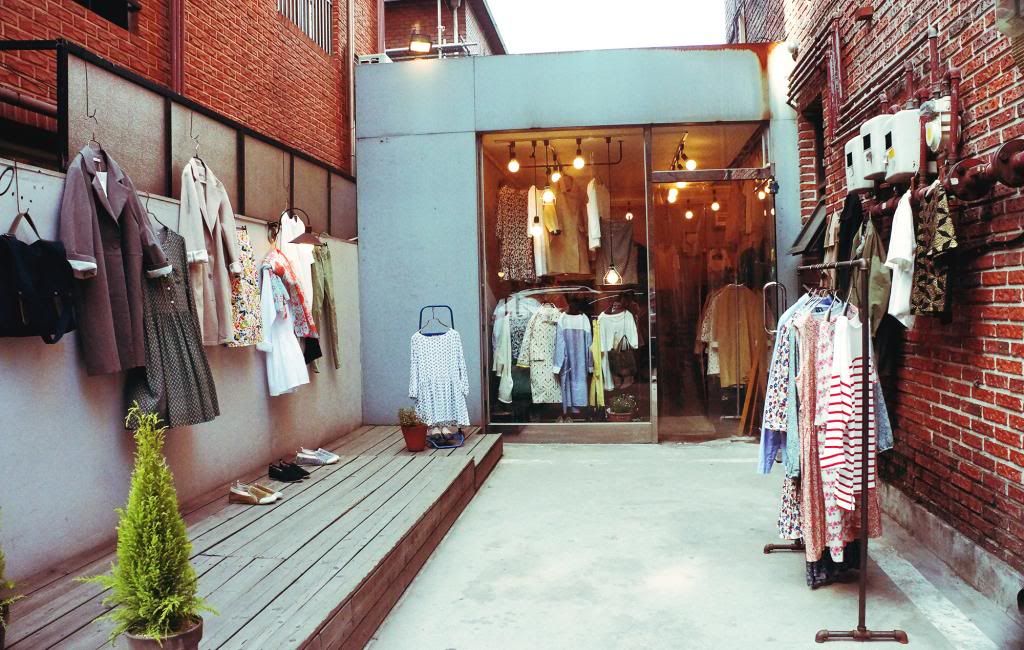 Some stores which are not on the main street and have more space has a really pretty and spacious display
I also went to Stylenanda! Their flagship store is not located on the main street, so it took awhile for me to go there and find it but there are tourist information center people walking around and offering help for tourists, they would happily show you the way to places you want to go to!
So, what is Stylenanda exactly? Stylenanda is a famous Korean brand, it started as an online shop (because Korean people, as far as I know //please correct me if I'm wrong//, love online shopping) but Stylenanda was one of the most popular brands, so they opened an 'offline' store (or a Flagship Store they call it) a few years ago. Do check
Stylenanda.com
! Maybe there's something that suits your fancy! (my wish list is filled with everything from Stylenanda)
I didn't take a lot of pictures inside the store (it'd be weird anyway...) but the store was rad! If you like Stylenanda, you should defintely go to their flagship store! And their makeup line 3CE (3 Concept Eyes) had some rave reviews. I bought their nail polishes, they were about 4000 Korean Won each (+/- $4 I guess?) but they are amazing! It dries really quickly and 2 coats are enough to provide a really good result.
So yeah, hope this post covers a bit of Hongdae and Stylenanda to give you a general view of the place (and gives you a new must-go destination if you ever visit Seoul!)
Or you've been there yourself? Please do tell me what you think about these places!
Toodle toot!
xoxo