I finally got the time to write about my trip to Strasbourg!
Just for a quick update, I'm going to spend a semester in Rennes, France for an exchange student program at a school called ESC Rennes. It won't start until a few days later though, while I've arrived here in France since about a week ago, so my mother and I went on a little trip to the eastern part of France. And I'm so glad I went!
Even though I initially wanted to go South to see lavender fields near Aix-en-Provence, I guess it has to wait until my next trip because the summer here in France is nearing the end, and I'm afraid the lavender won't be in its top shape if I come now. Oh well, I just have to hold off in crossing it on my bucketlist for a while. I'm sure I would see it in the future!
Back to the Strasbourg trip, my mom and I decided to go there because my mom has never been there (she travels A LOT for work so to her not being there yet must have been a wish of some sort), and we wanted to feel the ambience of an old, traditional French houses and villages. Off we go then!
We started this trip from Rennes (my city), to Paris first to put off my mother's luggage to a friend of hers from the embassy. After that, we rode the train again straight to Strasbourg! All of our train rides in this trip is made by using the high-speed train of France, the TGV (or SNCF? I'm not really sure of the name because people call it TGV, but the website, application, and the office name is SNCF). You'll get a reduced price if you're between 18-25 years old, and even more if you make the discount card for young adults, the Carte Jeune. When I bought it it costs 50 Euro but it will totally be worth it because you could get discounts on your train rides, from 25% to even 50%!
As we reached Strasbourg, we immediately drag our luggages to find our hotel. The tram ride system in Strasbourg is really good, on-time, and thorough. We don't feel the need to use the taxi. In fact, we can hardly find any taxi! I guess you have to call the company if you need one. But we don't need it because the tram ride is sufficient enough to take us near our hotel. As we got off the stop nearest to our hotel (The stop Broglie, if I'm not mistaken?) we walked to our hotel which is not very far away, maybe 200-300m by foot from the train stop.
Our hotel, the
Hotel Cathedrale
was superb! Explaining about all its goodness would need its own post, but in short this three-hotel stars worth all the money for its really nice and comfortable room, nice service, and the BEST location you could ever think of when staying in Strasbourg, for it straightly faces the Notre-Dame Cathedrale of Strasbourg! I HIGHLY recommend the hotel for people who's going to go to Strasbourg and have some more money to spend (I went with my mom after all, so I could have a bit of luxury in this trip).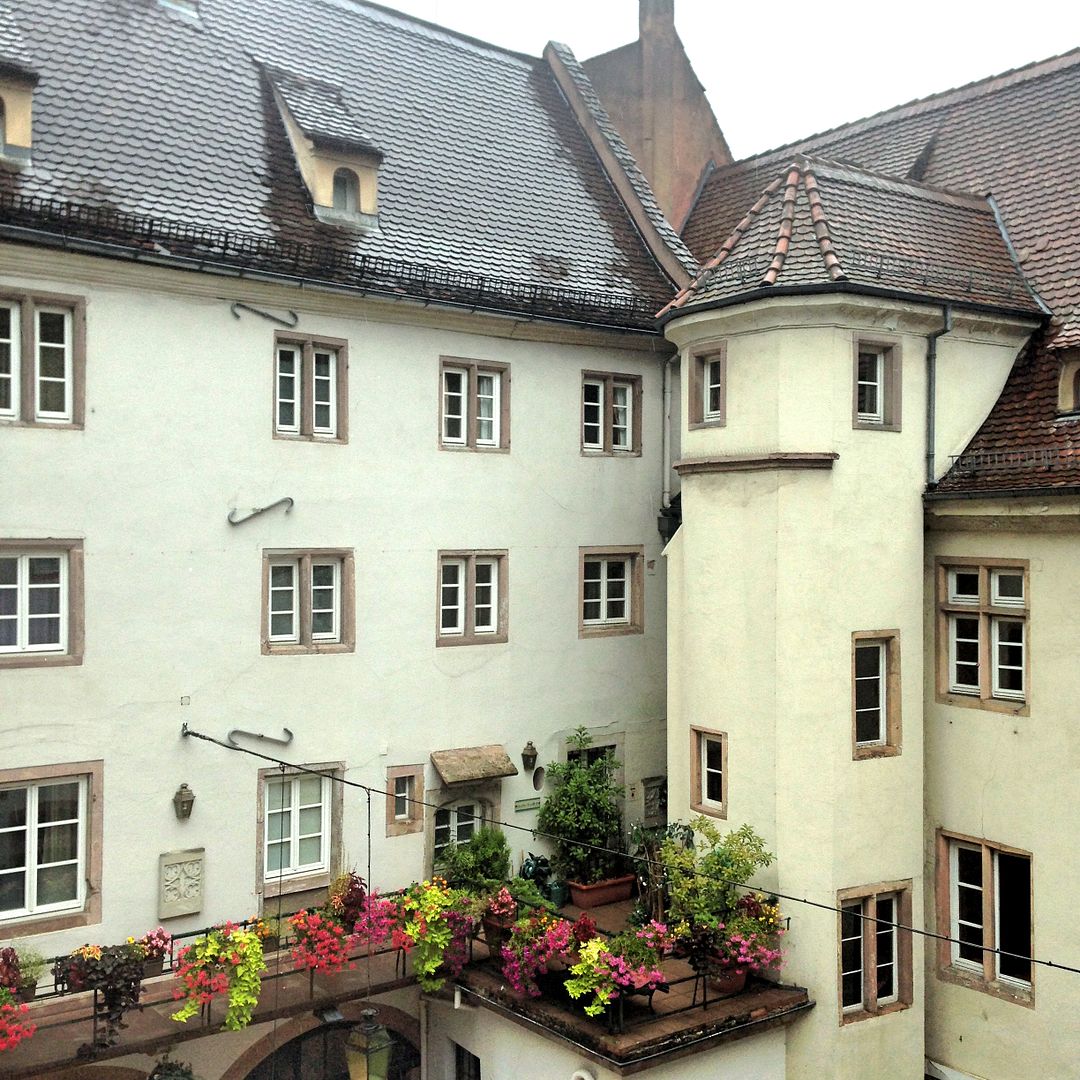 The view from my hotel room, facing the inner courtyard of the hotel.
When going to Strasbourg, the most famous place to go and to be I guess, would be the Notre-Dame Cathedrale. And I do must say it's beautiful. I'm no expert in architecture, but I could say that I really love the details of the building, and the painted glass windows. I saw the cathedrale everyday in my three-day trip thanks to my hotel location, and I never got bored looking at the walls.
Sunset hues lining the cathedral
Details of the windows
However, more than just the museum, the busy square and streets near it are even funner and more bustling with life and things to see! Rue Merceries (again, please forgive me if I mistake the road's name) is filled with cafes, shops, and souvenir shops! The highlight of it, I should say, is this particular gelato shop where they shape your ice cream into a rose. I LOVE IT and the ice cream was amazing! I tried several flavors, one of my favorite was the classic pistachio. Be sure to try eating this delicious gelato if you ever have a chance to go here! I haven't found this ice cream shop anywhere else, sadly.
the Rue Merceries when it rains
Ask for as many flavors as you want in one portion of this ice cream!
Near the cathedral plaza, there's also another plaza. What's special about this place, I guess, is the big carousel that adorns it! I have a constant adoration bordering on obsession with carousels, especially the pretty ones, so I look at it several times, separating myself from my mom who's picking at souvenirs. The merry-go round was two-tiered, with horses and cars and teacups, and even giraffes, elephants, lions, and pigs to ride on! I love meself some dreamy carousels
♥.
I almost rode it myself if my mom did not chastise me and reminded me to look around and see that all of the people who rode it are children under age 10....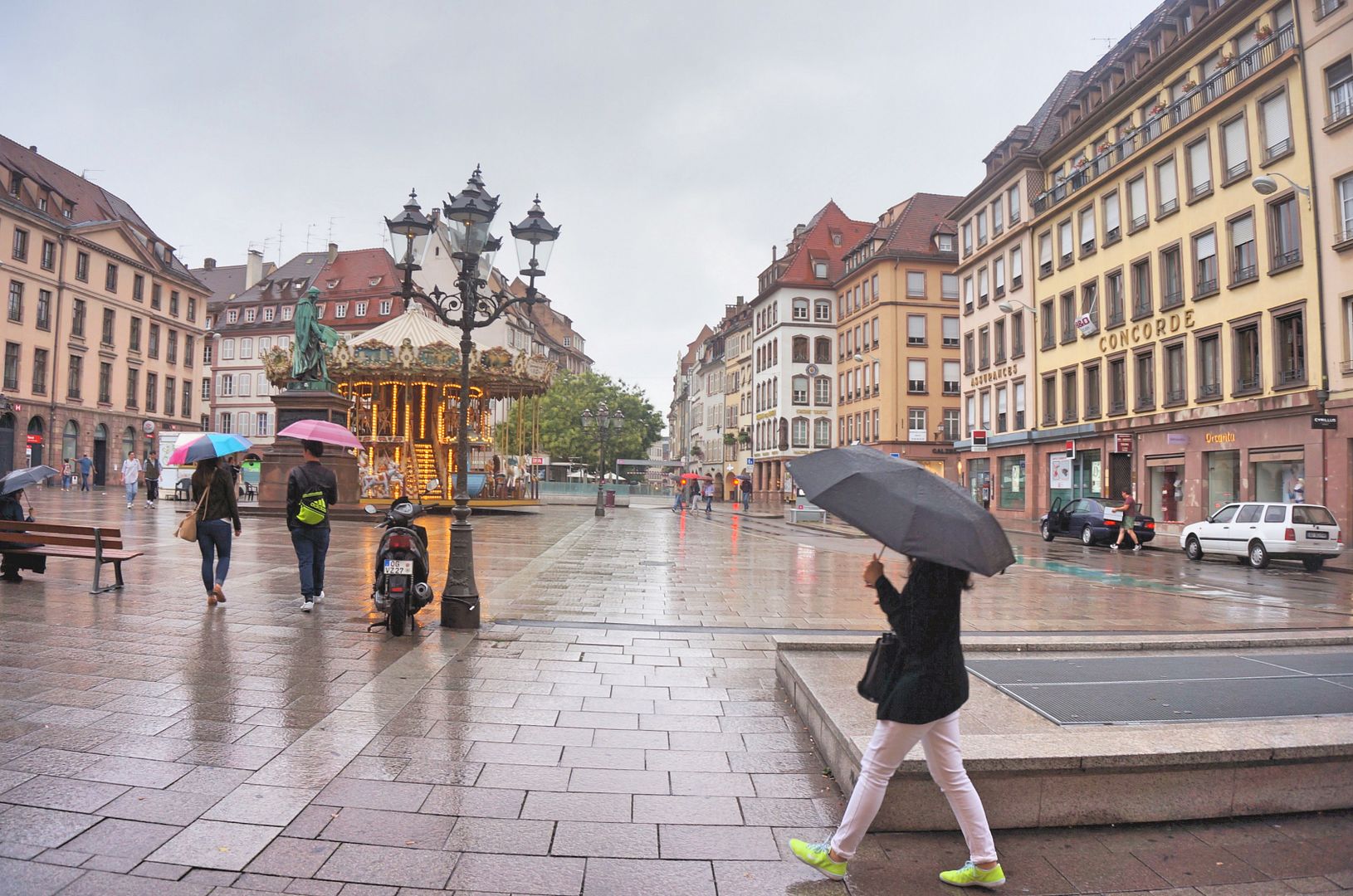 Me, heading to the carousel of my dreams taken by my mom.
Another place that need to be looked at (Yes, NEED) is the Petite France for its accurate ambience of small French villages. I mean, I could actually imagine the first scene in Disney's version of Beauty and the Beast where Belle sings as she does her morning walk, with the villagers all talking about how weird she is. The place IS that pretty, my mom and I spent almost up to two-three hours just walking around and grabbed our dinner on the first day.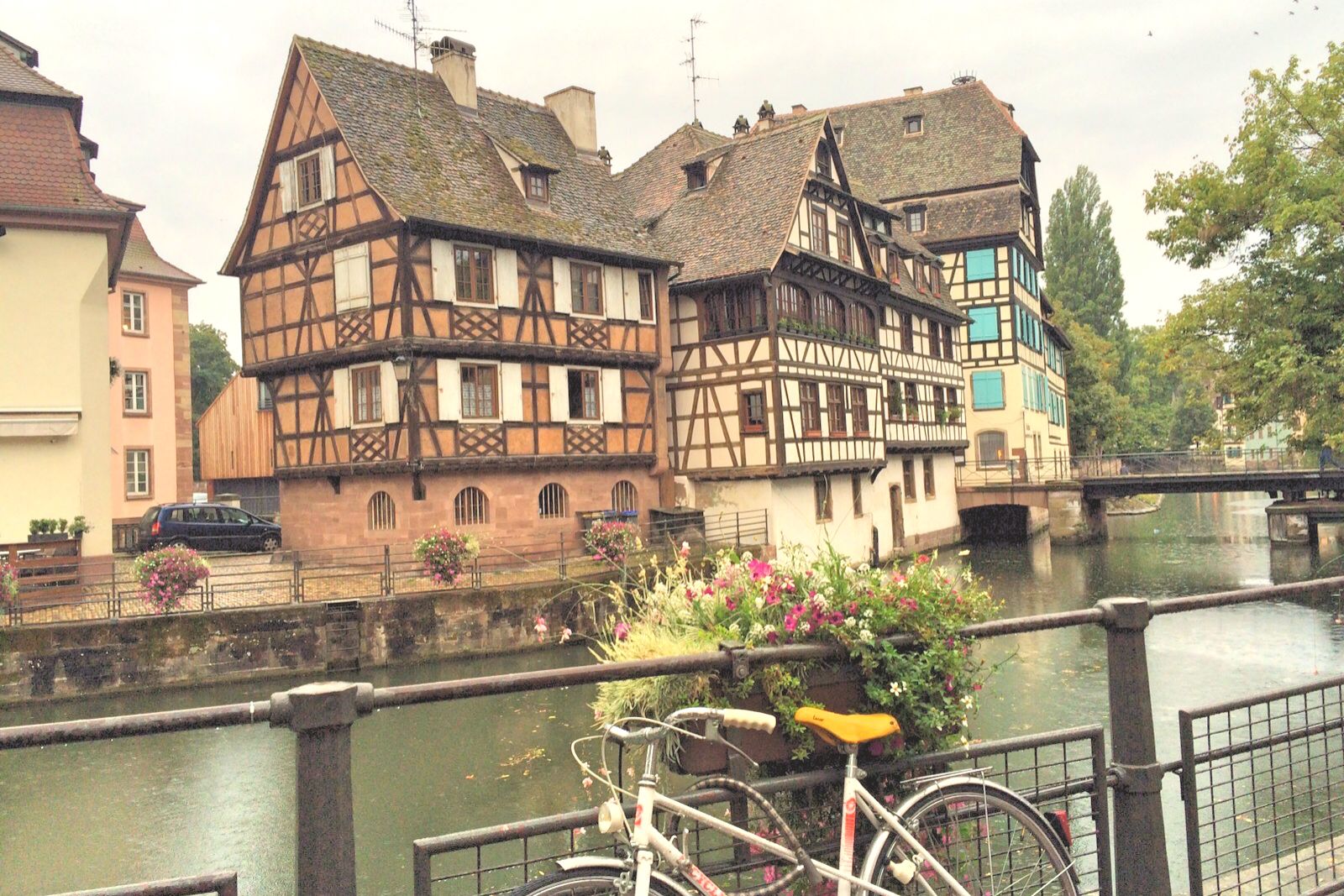 I guess the car on the background kind of ruin the ambience a bit, but the place is still beautiful to look at!
Remnants of summer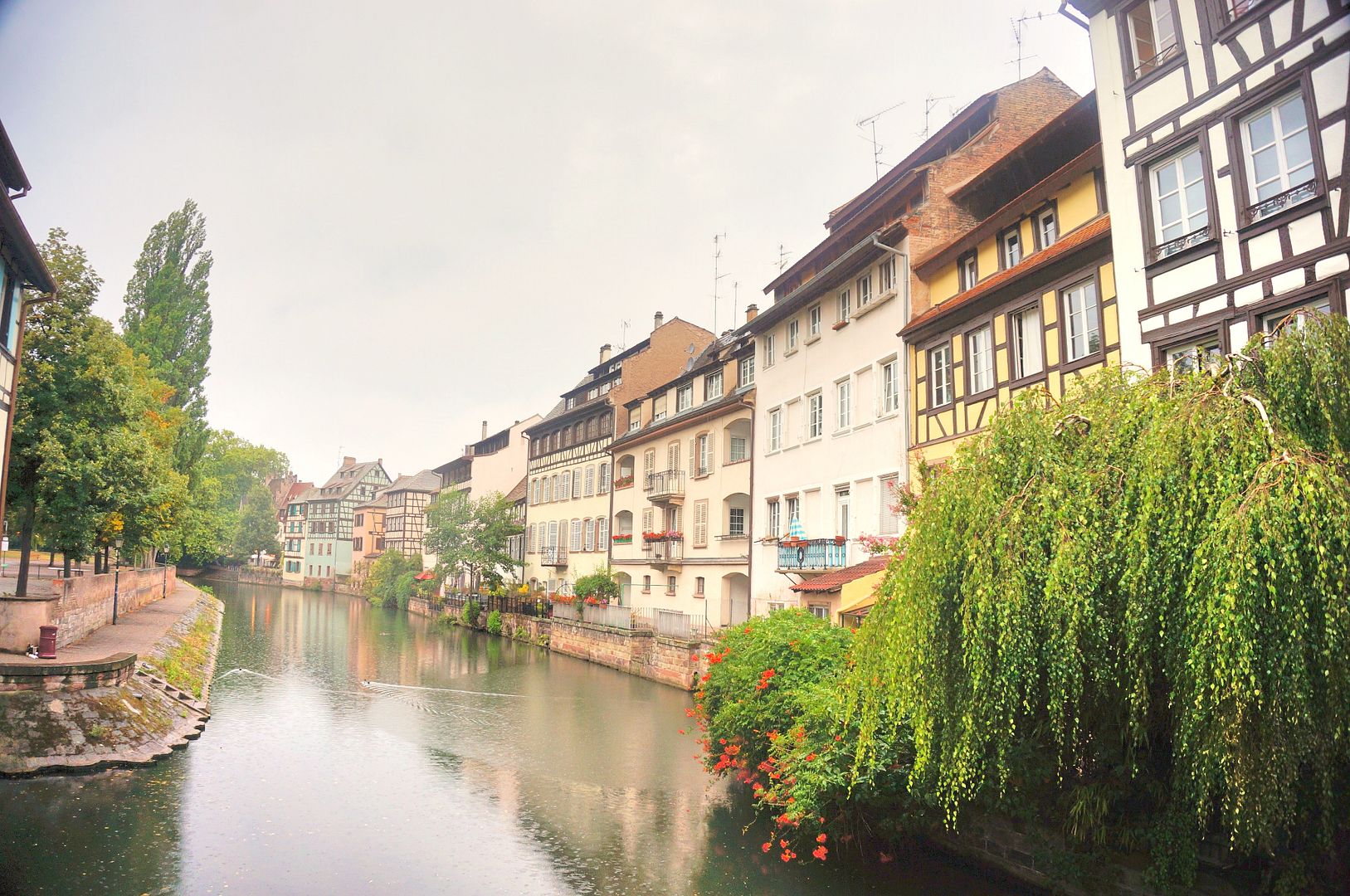 On the second day, my mom and I went to another city near Strasbourg called Colmar, and I'm going to write about it soon because it'll do the town/village's beauty no justice if I just include it here! It needs a legit full post.
The first day I was in Strasbourg was a bit rainy and gloomy, sadly, but the third day was the charm, for the weather was amazingly bright and warm. That's why there are more people around the cathedrale area, I guess. On our last day, my mom and I passed by the Petite France area again just to satisfy and immerse ourself in the pretty place. After that, we traveled a bit more further and I got to visit the museum that I really wanted to visit, which is the Strasbourg Museum of Modern and Contemporary Art (MAMCS to be short). I would do a separate blog post about this Museum as well, because I love it that much and I'm an exhibition geek, especially for contemporary art exhibitions.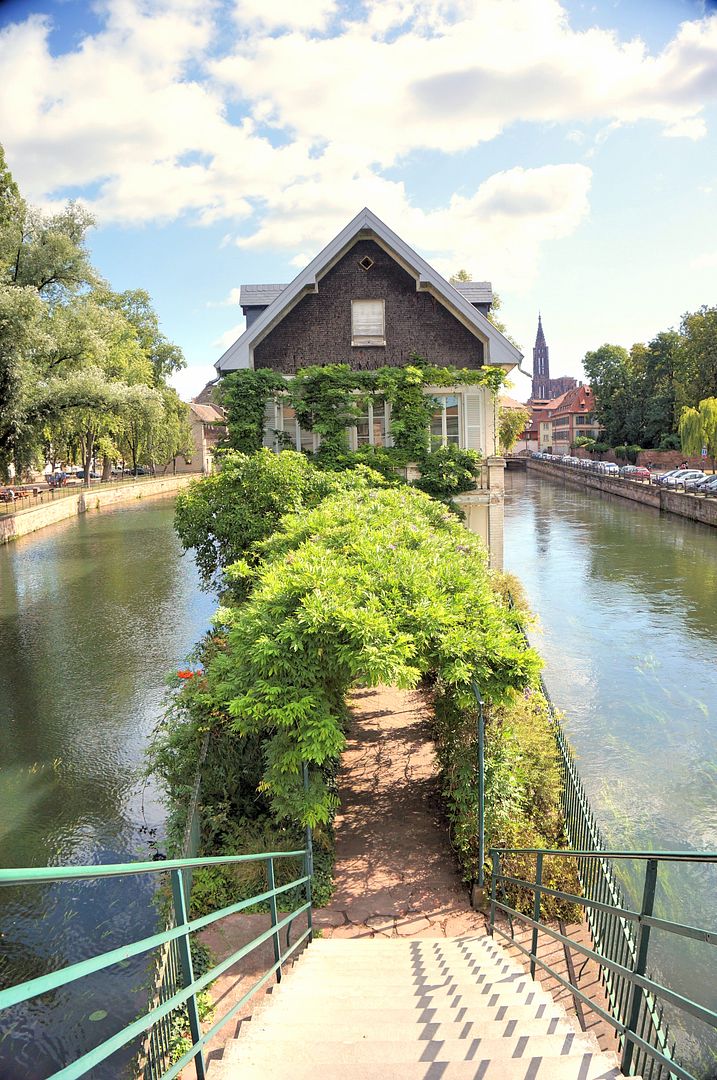 Pretty houses and walkways everywhere
We went back to Paris later that day, and we walked while carrying our luggages to the station instead of taking the tram because it is really not that far anyway. The weather was really enjoyable.
All in all, my three day trip to the Alsace Region in France was amazing! I wish I could stay a bit longer and discover more small towns and villages though, the Alsace region has a lot of it and visiting them all would be a joy to me, like immersing myself to my childhood's fairy tales. Do visit this region, it was totally worth the experience!
(I'd love to help you plan your trip to places I've been to, don't hesitate to contact me!)